pcihpview is a GTK+ program that displays all PCI Hotplug slots in the system and allows you to enable and disable slots, and change the attention light values.
Requirements
pcihpview uses
GTK+ 1.2
and requires that you have a PCI Hotplug controller driver loaded in your system, and the
pcihpfs
filesystem mounted.
Screenshot
Here is the obligitory screenshot: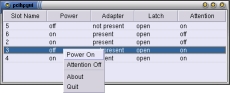 Download
The changelog for pcihpview can be viewed
here
.
Source for pcihpview-0.5
Binary RPM for pcihpview-0.5
Source RPM for pcihpview-0.5
BitKeeper tree
The BitKeeper tree for pcihpview can be browsed
here
.